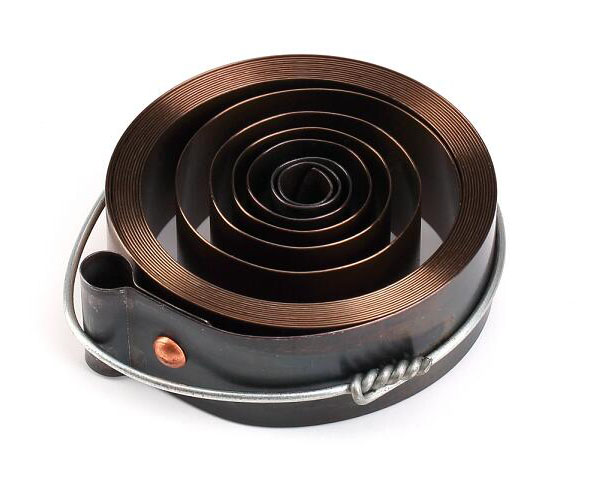 Clock spring for worldwide Clock & Watch RepairParts Distributor and shop
We supply clock spring for worldwide clockand watch repaire shop and distributor.
High quality.
Material:carbon steel and stainless steel
Our customers are in UK,USA and Australia etc.
Clock spring mainly including hoop endclock spring and hole end spring in various sizes.
Pls find below the common sizes for your ref.
We can make the spring as per your sample or drawing.
Pls contact with us today for more details.
HOLE END CLOCK MAINSPRING
| | |
| --- | --- |
| HOLE END CLOCK MAINSPRING | 5mm x 0.25mm x 40mm  |
| HOLE END CLOCK MAINSPRING | 5mm x 0.28mm x 25mm  |
| HOLE END CLOCK MAINSPRING | 6mm x 0.25mm x 25mm  |
| HOLE END CLOCK MAINSPRING | 6mm x 0.45mm x 45mm  |
| HOLE END CLOCK MAINSPRING | 7mm x 0.18mm x 19mm |
| HOLE END CLOCK MAINSPRING | 8mm x 0.25mm x 25mm  |
| HOLE END CLOCK MAINSPRING | 9mm x 0.20mm x 20mm  |
| HOLE END CLOCK MAINSPRING | 9mm x 0.25mm x 20mm  |
| HOLE END CLOCK MAINSPRING | 10mm x 0.20mm x 20mm  |
| HOLE END CLOCK MAINSPRING | 10mm x 0.25mm x 25mm  |
| HOLE END CLOCK MAINSPRING | 10mm x 0.25mm x 30mm  |
| HOLE END CLOCK MAINSPRING | 10mm x 0.30mm x 30mm  |
| HOLE END CLOCK MAINSPRING | 10mm x 0.45mm x 45mm  |
| HOLE END CLOCK MAINSPRING | 11mm x 0.20mm x 20mm  |
| HOLE END CLOCK MAINSPRING | 11mm x 0.25mm x 20mm  |
| HOLE END CLOCK MAINSPRING | 11mm x 0.25mm x 25mm  |
| HOLE END CLOCK MAINSPRING | 11mm x 0.30mm x 30mm  |
| HOLE END CLOCK MAINSPRING | 11mm x 0.35mm x 35mm  |
| HOLE END CLOCK MAINSPRING | 11mm x 0.35mm x 65mm  |
| HOLE END CLOCK MAINSPRING | 12mm x 0.25mm x 25mm  |
| HOLE END CLOCK MAINSPRING | 12mm x 0.30mm x 25mm  |
| HOLE END CLOCK MAINSPRING | 12mm x 0.30mm x 30mm  |
| HOLE END CLOCK MAINSPRING | 12mm x 0.30mm x 32mm  |
| HOLE END CLOCK MAINSPRING | 12mm x 0.33mm x 25mm  |
| HOLE END CLOCK MAINSPRING | 12mm x 0.35mm x 35mm  |
| HOLE END CLOCK MAINSPRING | 12mm x 0.38mm x 24mm  |
| HOLE END CLOCK MAINSPRING | 12mm x 0.40mm x 40mm  |
| HOLE END CLOCK MAINSPRING | 12mm x 0.45mm x 45mm  |
| HOLE END CLOCK MAINSPRING | 13mm x 0.30mm x 30mm  |
| HOLE END CLOCK MAINSPRING | 13mm x 0.35mm x 28mm  |
| HOLE END CLOCK MAINSPRING | 13mm x 0.35mm x 35mm  |
| HOLE END CLOCK MAINSPRING | 13mm x 0.36mm x 30mm  |
| HOLE END CLOCK MAINSPRING | 13mm x 0.40mm x 40mm  |
| HOLE END CLOCK MAINSPRING | 13mm x 0.40mm x 50mm  |
| HOLE END CLOCK MAINSPRING | 13mm x 0.55mm x 32mm  |
| HOLE END CLOCK MAINSPRING | 14mm x 0.25mm x 25mm  |
| HOLE END CLOCK MAINSPRING | 14mm x 0.25mm x 30mm  |
| HOLE END CLOCK MAINSPRING | 14mm x 0.30mm x 30mm  |
| HOLE END CLOCK MAINSPRING | 14mm x 0.30mm x 30mm |
| HOLE END CLOCK MAINSPRING | 14mm x 0.33mm x 25mm  |
| HOLE END CLOCK MAINSPRING | 14mm x 0.35mm x 30mm  |
| HOLE END CLOCK MAINSPRING | 14mm x 0.35mm x 35mm  |
| HOLE END CLOCK MAINSPRING | 14mm x 0.36mm x 30mm  |
| HOLE END CLOCK MAINSPRING | 14mm x 0.40mm x 40mm  |
| HOLE END CLOCK MAINSPRING | 14mm x 0.41mm x 28mm  |
| HOLE END CLOCK MAINSPRING | 14mm x 0.45mm x 45mm  |
| HOLE END CLOCK MAINSPRING | 15mm x 0.25mm x 25mm  |
| HOLE END CLOCK MAINSPRING | 15mm x 0.25mm x 35mm  |
| HOLE END CLOCK MAINSPRING | 15mm x 0.30mm x 30mm  |
| HOLE END CLOCK MAINSPRING | 15mm x 0.30mm x 30mm |
| HOLE END CLOCK MAINSPRING | 15mm x 0.45mm x 45mm  |
| HOLE END CLOCK MAINSPRING | 15mm x 0.50mm x 32mm  |
| HOLE END CLOCK MAINSPRING | 16mm x 0.25mm x 25mm  |
| HOLE END CLOCK MAINSPRING | 16mm x 0.25mm x 30mm  |
| HOLE END CLOCK MAINSPRING | 16mm x 0.25mm x 50mm  |
| HOLE END CLOCK MAINSPRING | 16mm x 0.30mm x 30mm  |
| HOLE END CLOCK MAINSPRING | 16mm x 0.35mm x 35mm  |
| HOLE END CLOCK MAINSPRING | 16mm x 0.40mm x 40mm  |
| HOLE END CLOCK MAINSPRING | 16mm x 0.40mm x 45mm  |
| HOLE END CLOCK MAINSPRING | 16mm x 0.45mm x 40mm  |
| HOLE END CLOCK MAINSPRING | 16mm x 0.45mm x 45mm  |
| HOLE END CLOCK MAINSPRING | 16mm x 0.46mm x 36mm  |
| HOLE END CLOCK MAINSPRING | 17mm x 0.25mm x 25mm  |
| HOLE END CLOCK MAINSPRING | 17mm x 0.30mm x 30mm  |
| HOLE END CLOCK MAINSPRING | 17mm x 0.30mm x 35mm  |
| HOLE END CLOCK MAINSPRING | 17mm x 0.35mm x 35mm  |
| HOLE END CLOCK MAINSPRING | 17mm x 0.35mm x 35mm |
| HOLE END CLOCK MAINSPRING | 17mm x 0.35mm x 40mm  |
| HOLE END CLOCK MAINSPRING | 17mm x 0.40mm x 40mm  |
| HOLE END CLOCK MAINSPRING | 17mm x 0.40mm x 40mm |
| HOLE END CLOCK MAINSPRING | 17mm x 0.40mm x 45mm  |
| HOLE END CLOCK MAINSPRING | 17mm x 0.45mm x 45mm  |
| HOLE END CLOCK MAINSPRING | 17mm x 0.45mm x 45mm |
| HOLE END CLOCK MAINSPRING | 17mm x 0.50mm x 45mm  |
| HOLE END CLOCK MAINSPRING | 18mm x 0.25mm x 25mm  |
| HOLE END CLOCK MAINSPRING | 18mm x 0.25mm x 30mm  |
| HOLE END CLOCK MAINSPRING | 18mm x 0.25mm x 30mm |
| HOLE END CLOCK MAINSPRING | 18mm x 0.25mm x 35mm  |
| HOLE END CLOCK MAINSPRING | 18mm x 0.30mm x 30mm  |
| HOLE END CLOCK MAINSPRING | 18mm x 0.35mm x 35mm  |
| HOLE END CLOCK MAINSPRING | 18mm x 0.35mm x 40mm  |
| HOLE END CLOCK MAINSPRING | 18mm x 0.40mm x 40mm  |
| HOLE END CLOCK MAINSPRING | 18mm x 0.40mm x 40mm |
| HOLE END CLOCK MAINSPRING | 18mm x 0.40mm x 45mm  |
| HOLE END CLOCK MAINSPRING | 18mm x 0.41mm x 32mm  |
| HOLE END CLOCK MAINSPRING | 18mm x 0.45mm x 40mm  |
| HOLE END CLOCK MAINSPRING | 18mm x 0.45mm x 45mm  |
| HOLE END CLOCK MAINSPRING | 18mm x 0.46mm x 38mm  |
| HOLE END CLOCK MAINSPRING | 18mm x 0.50mm x 45mm  |
| HOLE END CLOCK MAINSPRING | 18mm x 0.50mm x 45mm |
| HOLE END CLOCK MAINSPRING | 18mm x 0.50mm x 50mm  |
| HOLE END CLOCK MAINSPRING | 19mm x 0.25mm x 25mm  |
| HOLE END CLOCK MAINSPRING | 19mm x 0.30mm x 30mm  |
| HOLE END CLOCK MAINSPRING | 19mm x 0.30mm x 35mm  |
| HOLE END CLOCK MAINSPRING | 19mm x 0.35mm x 35mm  |
| HOLE END CLOCK MAINSPRING | 19mm x 0.35mm x 55mm  |
| HOLE END CLOCK MAINSPRING | 19mm x 0.35mm x 65mm  |
| HOLE END CLOCK MAINSPRING | 19mm x 0.40mm x 35mm  |
| HOLE END CLOCK MAINSPRING | 19mm x 0.40mm x 40mm  |
| HOLE END CLOCK MAINSPRING | 19mm x 0.40mm x 45mm  |
| HOLE END CLOCK MAINSPRING | 19mm x 0.41mm x 38mm  |
| HOLE END CLOCK MAINSPRING | 19mm x 0.43mm x 36mm  |
| HOLE END CLOCK MAINSPRING | 19mm x 0.45mm x 45mm  |
| HOLE END CLOCK MAINSPRING | 19mm x 0.50mm x 50mm  |
| HOLE END CLOCK MAINSPRING | 20mm x 0.25mm x 30mm  |
| HOLE END CLOCK MAINSPRING | 20mm x 0.25mm x 30mm |
| HOLE END CLOCK MAINSPRING | 20mm x 0.30mm x 30mm  |
| HOLE END CLOCK MAINSPRING | 20mm x 0.30mm x 35mm  |
| HOLE END CLOCK MAINSPRING | 20mm x 0.35mm x 35mm  |
| HOLE END CLOCK MAINSPRING | 20mm x 0.40mm x 40mm  |
| HOLE END CLOCK MAINSPRING | 20mm x 0.40mm x 45mm  |
| HOLE END CLOCK MAINSPRING | 20mm x 0.41mm x 38mm  |
| HOLE END CLOCK MAINSPRING | 20mm x 0.45mm x 45mm  |
| HOLE END CLOCK MAINSPRING | 20mm x 0.45mm x 45mm |
| HOLE END CLOCK MAINSPRING | 20mm x 0.50mm x 50mm  |
| HOLE END CLOCK MAINSPRING | 20mm x 0.60mm x 65mm  |
| HOLE END CLOCK MAINSPRING | 21mm x 0.25mm x 30mm  |
| HOLE END CLOCK MAINSPRING | 21mm x 0.30mm x 30mm  |
| HOLE END CLOCK MAINSPRING | 21mm x 0.30mm x 30mm |
| HOLE END CLOCK MAINSPRING | 21mm x 0.38mm x 50mm  |
| HOLE END CLOCK MAINSPRING | 21mm x 0.45mm x 45mm  |
| HOLE END CLOCK MAINSPRING | 21mm x 0.50mm x 50mm  |
| HOLE END CLOCK MAINSPRING | 21mm x 0.50mm x 55mm  |
| HOLE END CLOCK MAINSPRING | 22mm x 0.25mm x 28mm  |
| HOLE END CLOCK MAINSPRING | 22mm x 0.30mm x 30mm  |
| HOLE END CLOCK MAINSPRING | 22mm x 0.30mm x 30mm |
| HOLE END CLOCK MAINSPRING | 22mm x 0.30mm x 35mm  |
| HOLE END CLOCK MAINSPRING | 22mm x 0.35mm x 35mm  |
| HOLE END CLOCK MAINSPRING | 22mm x 0.35mm x 40mm  |
| HOLE END CLOCK MAINSPRING | 22mm x 0.35mm x 45mm  |
| HOLE END CLOCK MAINSPRING | 22mm x 0.35mm x 65mm  |
| HOLE END CLOCK MAINSPRING | 22mm x 0.40mm x 35mm  |
| HOLE END CLOCK MAINSPRING | 22mm x 0.40mm x 40mm  |
| HOLE END CLOCK MAINSPRING | 22mm x 0.40mm x 45mm  |
| HOLE END CLOCK MAINSPRING | 22mm x 0.40mm x 55mm  |
| HOLE END CLOCK MAINSPRING | 22mm x 0.45mm x 40mm  |
| HOLE END CLOCK MAINSPRING | 22mm x 0.45mm x 45mm  |
| HOLE END CLOCK MAINSPRING | 22mm x 0.50mm x 50mm  |
| HOLE END CLOCK MAINSPRING | 22mm x 0.60mm x 60mm  |
| HOLE END CLOCK MAINSPRING | 23mm x 0.45mm x 45mm  |
| HOLE END CLOCK MAINSPRING | 24mm x 0.30mm x 30mm  |
| HOLE END CLOCK MAINSPRING | 24mm x 0.30mm x 40mm  |
| HOLE END CLOCK MAINSPRING | 24mm x 0.35mm x 35mm  |
| HOLE END CLOCK MAINSPRING | 24mm x 0.40mm x 40mm  |
| HOLE END CLOCK MAINSPRING | 24mm x 0.40mm x 40mm |
| HOLE END CLOCK MAINSPRING | 24mm x 0.45mm x 45mm  |
| HOLE END CLOCK MAINSPRING | 24mm x 0.45mm x 50mm  |
| HOLE END CLOCK MAINSPRING | 24mm x 0.50mm x 50mm  |
| HOLE END CLOCK MAINSPRING | 24mm x 0.50mm x 50mm |
| HOLE END CLOCK MAINSPRING | 25mm x 0.35mm x 35mm  |
| HOLE END CLOCK MAINSPRING | 25mm x 0.35mm x 44mm  |
| HOLE END CLOCK MAINSPRING | 25mm x 0.40mm x 40mm  |
| HOLE END CLOCK MAINSPRING | 25mm x 0.45mm x 50mm  |
| HOLE END CLOCK MAINSPRING | 25mm x 0.50mm x 50mm  |
| HOLE END CLOCK MAINSPRING | 26mm x 0.40mm x 65mm  |
| HOLE END CLOCK MAINSPRING | 26mm x 0.45mm x 45mm  |
| HOLE END CLOCK MAINSPRING | 27mm x 0.35mm x 45mm  |
| HOLE END CLOCK MAINSPRING | 27mm x 0.45mm x 45mm  |
| HOLE END CLOCK MAINSPRING | 27mm x 0.45mm x 50mm  |
| HOLE END CLOCK MAINSPRING | 28mm x 0.40mm x 40mm  |
| HOLE END CLOCK MAINSPRING | 28mm x 0.45mm x 45mm  |
| HOLE END CLOCK MAINSPRING | 28mm x 0.50mm x 50mm  |
| HOLE END CLOCK MAINSPRING | 28mm x 0.55mm x 55mm  |
| HOLE END CLOCK MAINSPRING | 29mm x 0.40mm x 54mm  |
| HOLE END CLOCK MAINSPRING | 29mm x 0.40mm x 64mm  |
| HOLE END CLOCK MAINSPRING | 30mm x 0.45mm x 45mm  |
| HOLE END CLOCK MAINSPRING | 31mm x 0.30mm x 30mm  |
| HOLE END CLOCK MAINSPRING | 31mm x 0.30mm x 35mm  |
| HOLE END CLOCK MAINSPRING | 31mm x 0.30mm x 45mm  |
| HOLE END CLOCK MAINSPRING | 31mm x 0.30mm x 50mm  |
| HOLE END CLOCK MAINSPRING | 32mm x 0.40mm x 50mm  |
| HOLE END CLOCK MAINSPRING | 32mm x 0.40mm x 55mm  |
| HOLE END CLOCK MAINSPRING | 32mm x 0.40mm x 60mm  |
| HOLE END CLOCK MAINSPRING | 32mm x 0.45mm x 45mm  |
| HOLE END CLOCK MAINSPRING | 32mm x 0.45mm x 51mm  |
| HOLE END CLOCK MAINSPRING | 32mm x 0.45mm x 54mm  |
| HOLE END CLOCK MAINSPRING | 32mm x 0.50mm x 50mm  |
| HOLE END CLOCK MAINSPRING | 35mm x 0.40mm x 55mm  |
| HOLE END CLOCK MAINSPRING | 35mm x 0.45mm x 45mm  |
| HOLE END CLOCK MAINSPRING | 35mm x 0.45mm x 51mm  |
| HOLE END CLOCK MAINSPRING | 35mm x 0.45mm x 54mm  |
| HOLE END CLOCK MAINSPRING | 35mm x 0.45mm x 57mm  |
| HOLE END CLOCK MAINSPRING | 35mm x 0.45mm x 64mm  |
| HOLE END CLOCK MAINSPRING | 35mm x 0.50mm x 50mm  |
| HOLE END CLOCK MAINSPRING | 35mm x 0.50mm x 55mm  |
| HOLE END CLOCK MAINSPRING | 35mm x 0.55mm x 55mm  |
| HOLE END CLOCK MAINSPRING | 35mm x 0.55mm x 65mm  |
| HOLE END CLOCK MAINSPRING | 35mm x 0.70mm x 112mm  |
| HOLE END CLOCK MAINSPRING | 38mm x 0.40mm x 50mm  |
| HOLE END CLOCK MAINSPRING | 38mm x 0.40mm x 55mm  |
| HOLE END CLOCK MAINSPRING | 38mm x 0.40mm x 60mm  |
| HOLE END CLOCK MAINSPRING | 38mm x 0.40mm x 70mm  |
| HOLE END CLOCK MAINSPRING | 38mm x 0.45mm x 45mm  |
| HOLE END CLOCK MAINSPRING | 38mm x 0.45mm x 51mm  |
| HOLE END CLOCK MAINSPRING | 38mm x 0.45mm x 54mm  |
| HOLE END CLOCK MAINSPRING | 38mm x 0.45mm x 57mm  |
| HOLE END CLOCK MAINSPRING | 38mm x 0.45mm x 60mm  |
| HOLE END CLOCK MAINSPRING | 38mm x 0.45mm x 64mm  |
| HOLE END CLOCK MAINSPRING | 38mm x 0.50mm x 50mm  |
| HOLE END CLOCK MAINSPRING | 38mm x 0.50mm x 55mm  |
| HOLE END CLOCK MAINSPRING | 38mm x 0.50mm x 60mm  |
| HOLE END CLOCK MAINSPRING | 38mm x 0.60mm x 55mm  |
| HOLE END CLOCK MAINSPRING | 40mm x 0.45mm x 45mm  |
| HOLE END CLOCK MAINSPRING | 40mm x 0.45mm x 50mm  |
| HOLE END CLOCK MAINSPRING | 40mm x 0.45mm x 57mm  |
| HOLE END CLOCK MAINSPRING | 40mm x 0.50mm x 50mm  |
| HOLE END CLOCK MAINSPRING | 41mm x 0.45mm x 51mm  |
| HOLE END CLOCK MAINSPRING | 41mm x 0.45mm x 54mm  |
| HOLE END CLOCK MAINSPRING | 41mm x 0.45mm x 57mm  |
| HOLE END CLOCK MAINSPRING | 41mm x 0.45mm x 64mm  |
| HOLE END CLOCK MAINSPRING | 45mm x 0.45mm x 54mm  |
| HOLE END CLOCK MAINSPRING | 50.5mm x 0.40mm x 35mm  |
| HOLE END CLOCK MAINSPRING | 51mm x 0.50mm x 50mm  |
LOOP END CLOCK MAINSPRING
| | |
| --- | --- |
| LOOP END CLOCK MAINSPRING | 3.5mm x 0.22mm x 540mm |
| LOOP END CLOCK MAINSPRING | 4.0mm x 0.25mm x 800mm |
| LOOP END CLOCK MAINSPRING | 4.0mm x 0.30mm x 670mm |
| LOOP END CLOCK MAINSPRING | 5.0mm x 0.25mm x 600mm |
| LOOP END CLOCK MAINSPRING | 5.0mm x 0.35mm x 650mm |
| LOOP END CLOCK MAINSPRING | 6.0mm x 0.30mm x 800mm |
| LOOP END CLOCK MAINSPRING | 6.0mm x 0.35mm x 570mm |
| LOOP END CLOCK MAINSPRING | 6.0mm x 0.40mm x 1000mm |
| LOOP END CLOCK MAINSPRING | 6.4mm x 0.31mm x 1041mm |
| LOOP END CLOCK MAINSPRING | 6.4mm x 0.41mm x 1370mm |
| LOOP END CLOCK MAINSPRING | 7.0mm x 0.22mm x 1500mm |
| LOOP END CLOCK MAINSPRING | 7.0mm x 0.30mm x 1000mm |
| LOOP END CLOCK MAINSPRING | 7.0mm x 0.45mm x 1200mm |
| LOOP END CLOCK MAINSPRING | 7.5mm x 0.25mm x 800mm |
| LOOP END CLOCK MAINSPRING | 7.5mm x 0.20mm x 1500mm |
| LOOP END CLOCK MAINSPRING | 7.5mm x 0.32mm x 950mm |
| LOOP END CLOCK MAINSPRING | 7.5mm x 0.40mm x 1100mm |
| LOOP END CLOCK MAINSPRING | 8.0mm x 0.20mm x 750mm |
| LOOP END CLOCK MAINSPRING | 8.0mm x 0.25mm x 600mm |
| LOOP END CLOCK MAINSPRING | 8.0mm x 0.25mm x 800mm |
| LOOP END CLOCK MAINSPRING | 8.0mm x 0.30mm x 1000mm |
| LOOP END CLOCK MAINSPRING | 8.0mm x 0.38mm x 1066mm |
| LOOP END CLOCK MAINSPRING | 8.0mm x 0.40mm x 1000mm |
| LOOP END CLOCK MAINSPRING | 8.0mm x 0.41mm x 1829mm |
| LOOP END CLOCK MAINSPRING | 8.0mm x 0.50mm x 1300mm |
| LOOP END CLOCK MAINSPRING | 9.0mm x 0.40mm x 1000mm |
| LOOP END CLOCK MAINSPRING | 9.0mm x 0.45mm x 1300mm |
| LOOP END CLOCK MAINSPRING | 9.5mm x 0.35mm x 1346mm |
| LOOP END CLOCK MAINSPRING | 9.5mm x 0.36mm x 1524mm |
| LOOP END CLOCK MAINSPRING | 9.5mm x 0.48mm x 1219mm |
| LOOP END CLOCK MAINSPRING | 9.5mm x 0.36mm x 1219mm |
| LOOP END CLOCK MAINSPRING | 10.0mm x 0.40mm x 1000mm |
| LOOP END CLOCK MAINSPRING | 11mm x 0.36mm x 1829mm |
| LOOP END CLOCK MAINSPRING | 11.0mm x 0.46mm x 1219mm |
| LOOP END CLOCK MAINSPRING | 12.7mm x 0.41mm x 1676mm |
| LOOP END CLOCK MAINSPRING | 12.7mm x 0.46mm x 2438mm |
| LOOP END CLOCK MAINSPRING | 14.3mm x 0.38mm x 1980mm |
| LOOP END CLOCK MAINSPRING | 14.3mm x 0.46mm x 2438mm |
| LOOP END CLOCK MAINSPRING | 16mm x 0.33mm x 1753mm |
| LOOP END CLOCK MAINSPRING | 16.0mm x 0.46mm x 2430mm |
| LOOP END CLOCK MAINSPRING | 17.5mm x 0.38mm x 2743mm |
| LOOP END CLOCK MAINSPRING | 17.5mm x 0.46mm x 2430mm |
| LOOP END CLOCK MAINSPRING | 19mm x 0.32mm x 1800mm |
| LOOP END CLOCK MAINSPRING | 19mm x 0.36mm x 2743mm |
| LOOP END CLOCK MAINSPRING | 19mm x 0.40mm x 4200mm |
| LOOP END CLOCK MAINSPRING | 19mm x 0.43mm x 3040mm  |
| LOOP END CLOCK MAINSPRING | 19mm x 0.45mm x 2430mm |